Photo & Video Gallery
Remembering Remembrance Day at Victory Square
November 11, 2019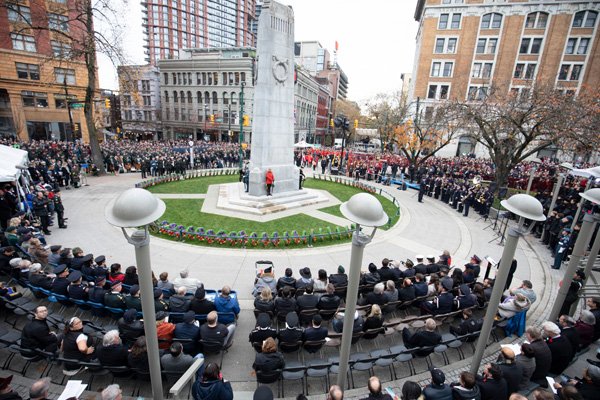 Thousands gathered at Victory Square in Vancouver on the 101st anniversary of the end of World War I to honour Canada's veterans and to pay respects to those who made the ultimate sacrifice. This year's Remembrance Day ceremonies also commemorated the 75th anniversary of D-Day, when allied troops stormed the beaches of Normandy on June 6, 1944 – an effort that would eventually lead to the liberation of Nazi-occupied France, Belgium and the Netherlands.
Remembrance Day ceremonies have been held in Vancouver at Victory Square since the cenotaph was constructed in 1924.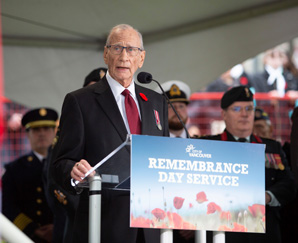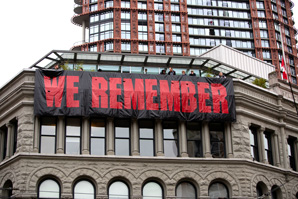 Once again, RUSI-Vancouver president Cameron Cathcart was Director of Ceremonies.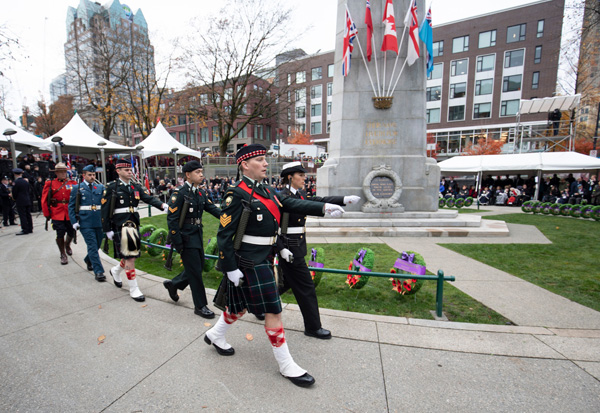 The Vigil Guard moves into position, made up of Canadian Forces Reserve members of the Army, Navy, Air Force and permanent members of the RCMP.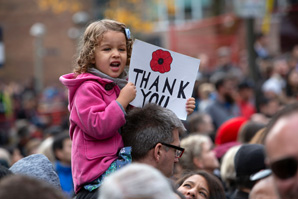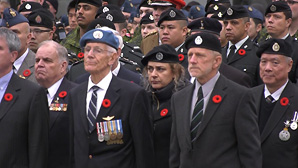 This year the weather was mild (12 deg C) with no rain.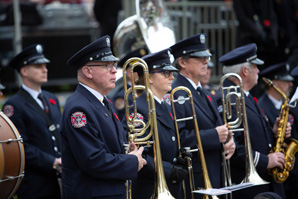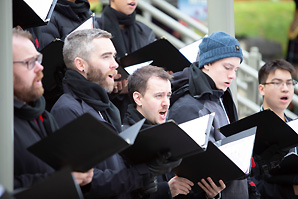 The ceremony featured performances by the Vancouver Fire & Rescue Band and the Bach Youth Choir.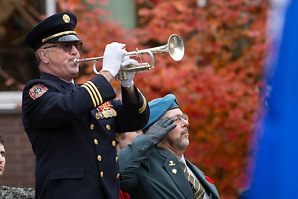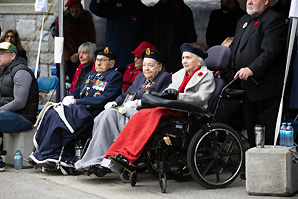 At 11am the Last Post was played followed by two minutes of silence in memory of the those who made the ultimate sacrifice in the service of our country.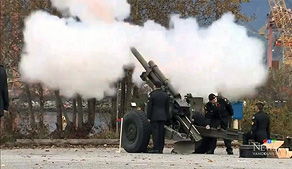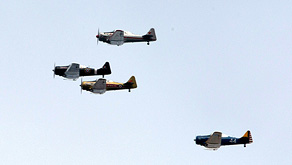 15th Field Artillery Regiment performed a 21-gun salute and vintage Harvard aircraft were flown in formation overhead.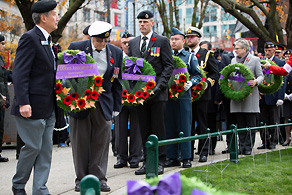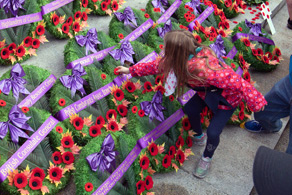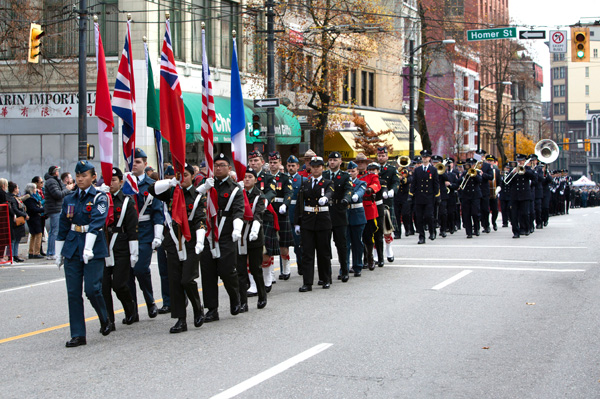 The Vancouver Flag Party, consisting of Sea, Air, Army and St John Ambulance cadets, and the Vigil Guard march to the reviewing stand followed by the Vancouver Fire & Rescue Band.
---
Change of Command at Discovery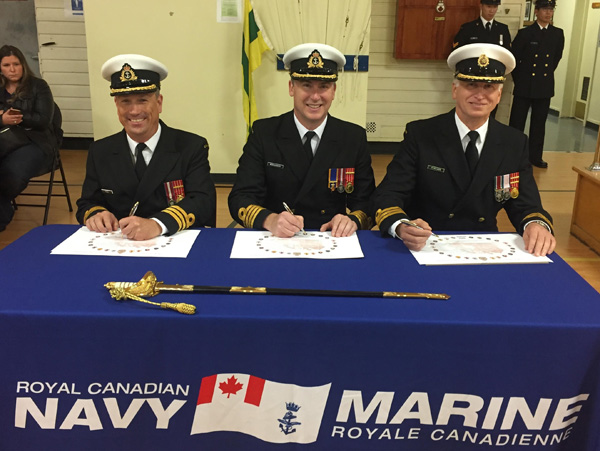 A Change of Command took place on 22 October at HMCS Discovery when Commander Bryan Price, CD (left) took over command of Vancouver's 'stone frigate' from Commander Chris Persson, CD (right). The signing over of command of the Navy Reserve unit was conducted by Captain (Navy) Patrick Montgomery, OMM, CD (centre), Special Assistant to the Director General, RCN Naval Strategic Readiness. Captain Montgomery inspected the Ship's Company and took the March Past Salute. This will be the second tour as Commanding Officer of HMCS Discovery for Commander Price. RUSI Vancouver was represented by President Cam Cathcart, former President John Nosotti, and members Ted Hawthorne, Bob McIlwaine and Constantine Pappas.
---
On Saturday, October 5, 2019 several members of RUSI Vancouver attended the official opening of Honour Ranch, near Ashcroft, BC. They included President Cam Cathcart, Ted Hawthorne and Dan Thomas. Dan kindly provided the following report and pictures, of the memorable event in BC's beautiful interior.
Honour Ranch to Support Recovery of Injured Troops and First Responders
"No-one needs to suffer alone" was a consistent theme throughout the Honour Ranch Ceremonial Launch on Saturday afternoon, October 5th 2019. Affiliated with Honour House in New Westminster, Honour Ranch will enable injured Canadian Armed Forces personnel and First Responders to recuperate with their families in a tranquil rural setting south of Ashcroft.
The Master of Ceremonies, Bob Parkinson, was also a strong proponent of Honour Ranch from his position as Health and Wellness Director for the BC Ambulance Service. Following brief remarks, he asked Elder Diane Sandy, Bonaparte First Nation, to provide a traditional blessing. He then introduced Honorary Colonel Allan De Genova, 15th Field Artillery Regiment RCA, who struggled at times with his emotions to thank many partners who had supported the complex arrangements that led to the founding and development of Honour Ranch.
Captain (retired) Trevor Greene, The Seaforth Highlanders of Canada, attended with his spouse Debbie Lepore, and spoke with wry humour about the opening of Honour House. Trevor's critical head injury, incurred early in the Afghanistan Campaign (March 2006), and his recovery, provided much of the early inspiration to form Honour House and eventually Honour Ranch.
In turn, the Honourable Judy Darcy, Minister of Mental Health & Addictions for the Province of British Columbia, outlined policy improvements to ensure that mentally injured personnel would no longer need to "jump through all those hoops to re-prove their case," and risk re-traumatization. "There is nothing stronger than reaching out and asking for help," she emphasized.
Locally, the "Blue Sky Country" Area Director for the Thompson Nicola Regional District, Steven Rice, underscored the community's support for Honour Ranch, and referred to First Responders as "silent heroes." There was no key to be presented to the Village of Ashcroft, he said, because "our doors are always open." (Allan De Genova had praised the support of local businesses and citizens.)
Approximately 300 guests united to witness the ceremony, representing a spectrum of civilian and military organizations. The Canadian Armed Forces' contingent included sailors from Maritime Forces Pacific, and soldiers from 15th Field Artillery Regiment RCA, including an ensemble from its band to perform anthems and other music. Their attendance symbolized the diverse contributions that sailors and soldiers had made to the initiative, including many technically skilled tasks and the 4.5-kilometre fencing project. A complement of Sea Cadets from the Avenger Royal Canadian Sea Cadet Corps provided a local uniformed presence.
The Commander 39 Canadian Brigade Group, Colonel Paul Ursich, and his Sergeant-Major, Chief Warrant Officer Bryan Gardner, were among the dignitaries. In addition to Honorary Colonel Allan De Genova, other Honorary appointees present included:
• Honorary Colonel Ted Hawthorne, The British Columbia Regiment (DCO);
• Honorary Colonel Richard Hamilton, the British Columbia Dragoons;
• Honorary Colonel Bill Diamond, 39 Combat Engineer Regiment;
• Honorary Colonel the Honourable Judith Guichon, the Rocky Mountain Rangers – immediate past Lieutenant Governor of British Columbia, and a rancher nearby;
• Honorary Lieutenant-Colonel Don Foster, 15th Field Artillery Regiment RCA; and
• Honorary Major Cam Cathcart, The British Columbia Regiment (DCO). Cam and Honorary Colonel Ted Hawthorne were both Founding Directors of the Honour House Society (from 2006 to 2010 for Cam and 2006 to 2008 for HCol Ted).
The First Responder community was very well represented indeed, including the RCMP, Vancouver, and other city police departments; Fire and Rescue organizations; and the BC Ambulance Service.
Honour Ranch will start operations in 2020 with its main lodge and 10 cabins. Future plans include a further 10 cabins. Nationally, the campaign continues to improve support to injured military personnel and First Responders, and their families. Like Honour House, Honour Ranch represents a major milestone in this constant journey.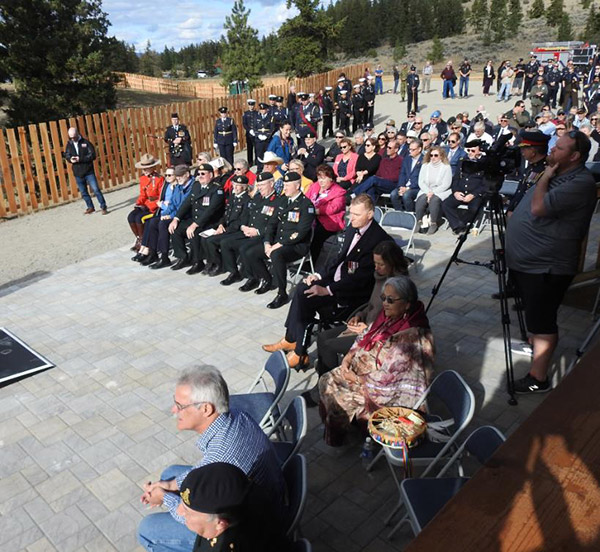 Dignitaries, participants, and media gather for the Honour Ranch opening ceremony.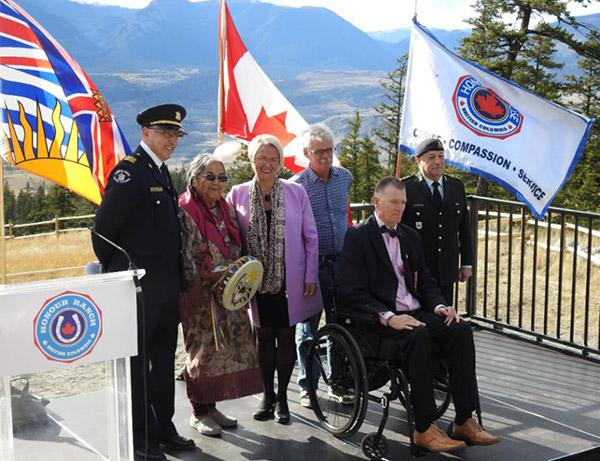 The ceremonial speakers gather for a group photograph, from left to right: Bob Parkinson, BC Ambulance Service; Elder Diane Sandy, Bonaparte First Nation; The Honourable Judy Darcy, BC Minister of Mental Health & Addiction; Steve Rice, Director "Blue Sky Country," Thompson Nicola Regional District; Captain (retired) Trevor Greene, The Seaforth Highlanders of Canada; and Honorary Colonel Allan De Genova, 15th Field Artillery Regiment RCA.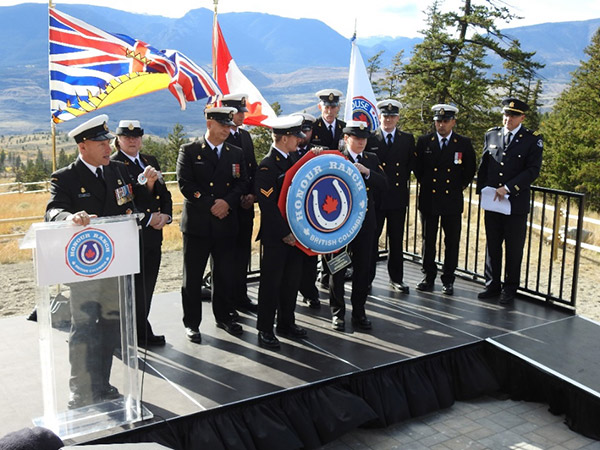 Chief Petty Officer First Class Steve Wist (left), Coxswain, HMCS Vancouver, and sailors from Maritime Forces Pacific make a traditional Naval presentation to Honour Ranch.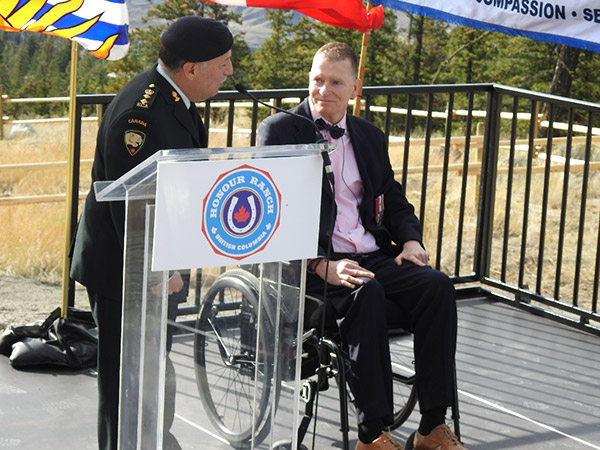 Honorary Colonel Allan De Genova thanks Captain (retired) Trevor Greene for his presentation.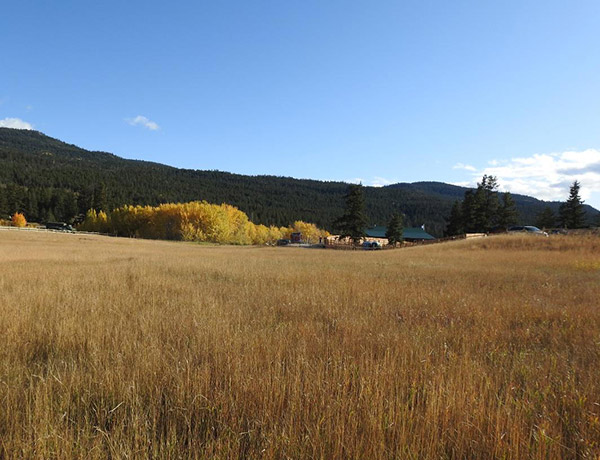 The Honour Ranch main lodge (centre right) is set in 120 "peaceful and serene" acres south of Ashcroft, B.C. Ten cabins will provide privacy for guests and their families, with plans for as many more.
---
Members of BCR Association and BCR Museum Society observe 75th Anniversary of the Battle of Hill 140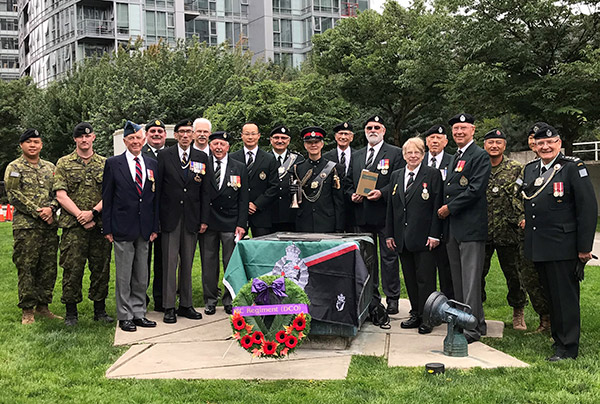 British Columbia Regiment (DCO) members and veterans, members of the BCR Association and BCR Museum Society, gathered on August 9, 2019 for an informal commemoration to honour the service and sacrifice of soldiers of the 28th Canadian Armoured Regiment (BC Regiment) on the 75th anniversary of the Battle of Hill 140 during Operation Totalize in Normandy.
During the surprise encounter on August 9,1944 with 12 Panzer Division, that lasted 14 hours, the BC Regiment lost 14 officers, including the CO, LCol Donald Worthington, 101 men and 47 tanks. The 28th CAR was supported on Hill 140 by the Algonquin Regiment that also lost a similar number of soldiers. Those who survived from both regiments were either taken prisoner or escaped to safety.
The ceremony on August 9 took place at St. Julien Square, adjacent to the Beatty Street Drill Hall in Vancouver, home of the BC Regiment (DCO).
---
Battle of Vimy Ridge Commemoration Ceremony
RUSI Vancouver President Cam Cathcart, and the Vancouver Vimy Day Committee, have organized another successful Vimy Day Commemoration and Army Cadet Parade at Vancouver's Mountain View Cemetery.
On Sunday, April 7, approximately 400 Army Cadets from Metro Vancouver participated in the ceremony that saw Canadian flags placed by the cadets at the headstones of the Fallen in the Commonwealth War Graves Section of the cemetery.
The Battle of Vimy Ridge was fought in France during the First World War from 9 to 12 April 1917. It is Canada's most celebrated military victory. The four divisions of the Canadian Corps fought together for the first time and captured the ridge from the German army. In he three-day battle more than 3,600 Canadians were killed, including an estimated 700 from BC, along with 7,000 wounded. The annual Vimy Day Commemoration is sponsored by RUSI Vancouver with support from Veterans Affairs Canada and Mountain View Cemetery.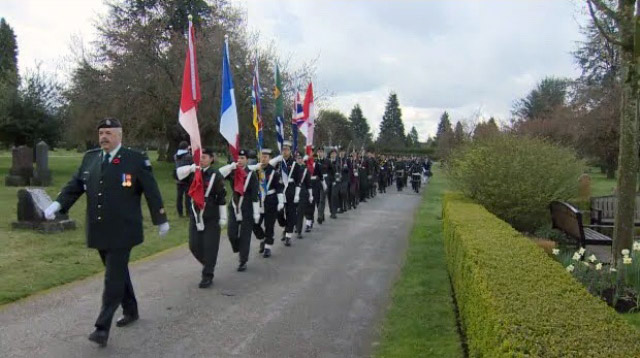 MWO Steve Kern led the Army Cadets into Mountain View cemetery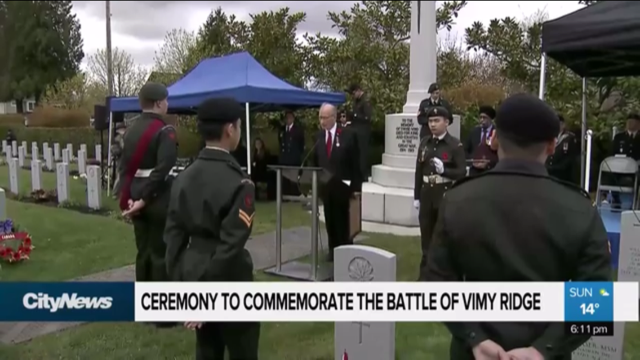 RUSI President, Cam Cathcart acted as Director of Ceremonies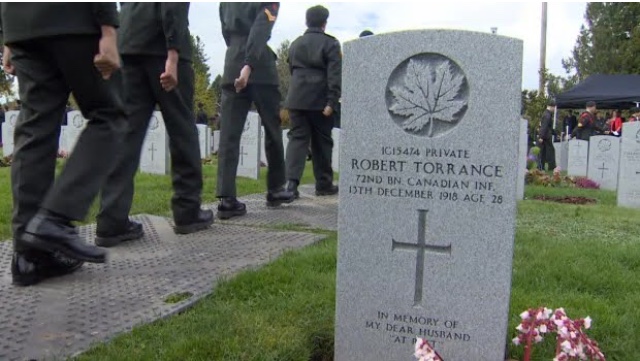 Army Cadets entering the ceremony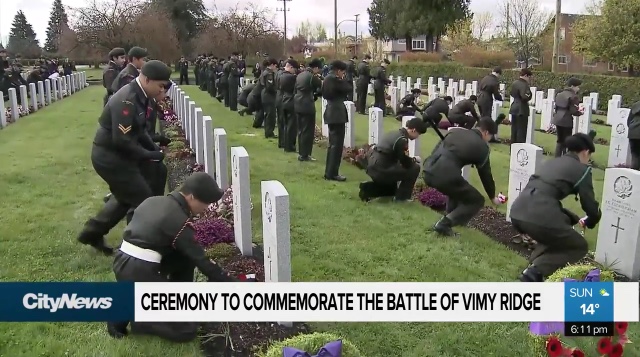 Army Cadets placing flags on the graves of Canadian soldiers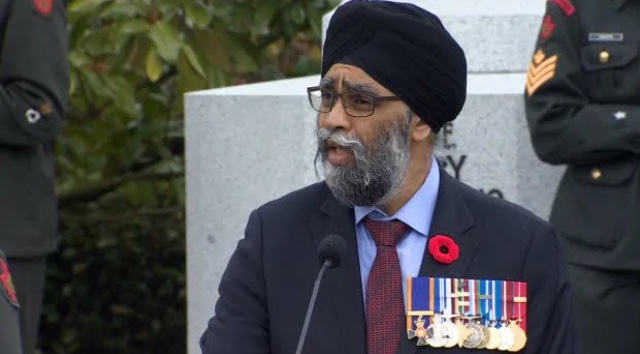 Minister of Defence Harjit Sagan spoke at the ceremony about the importance of remembering the contributions of Canada's soldiers
---
RUSI President Receives Anavets Award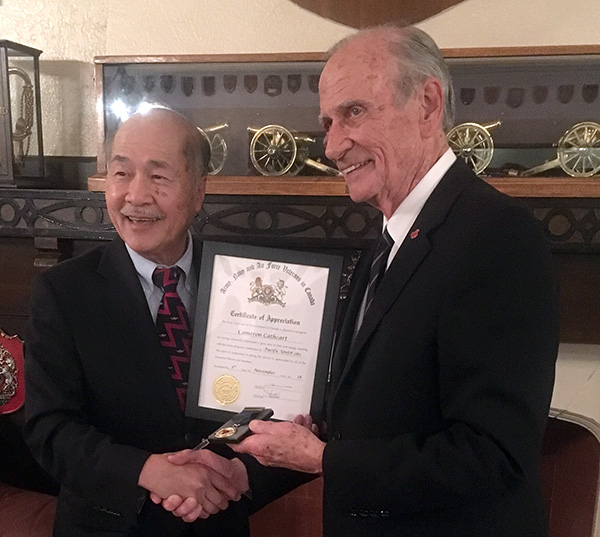 RUSI Vancouver President Cam Cathcart has received the Army, Navy & Air Force Veterans Association Medal and Certificate of Appreciation from Alfred Woo, President of Pacific Unit #280. The honour is in recognition of Cam's voluntary contributions assisting with the many programs undertaken by Anavets Unit #280. The presentation was made at a brief ceremony in the 15 Field (RCA) Regiment Officers Mess on 14 November, 2018.
---
Lighting of the Burrard Bridge Memorial Braziers
In Honour of Our Canadian Veterans
Originally installed in 1932, the lighted braziers on each end of Vancouver's Burrard Street Bridge memorialize British Columbians who served in the First World War. The four lamps were originally designed to replicate the flickering charcoal brazier fires lit by soldiers in the field to stay warm.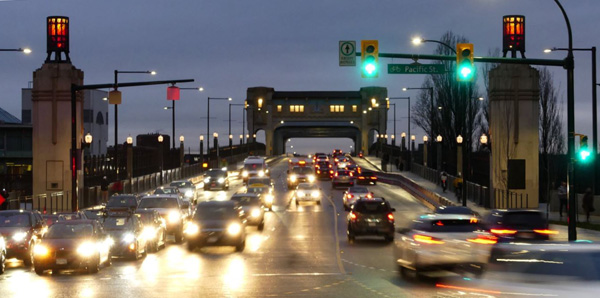 Photo: Lazia Kretzel - NEWS 1130
Repairs to the braziers have been performed as part of the recent $35-million Burrard Street Bridge upgrade project, which restored and technically upgraded the fixtures with LED lighting systems.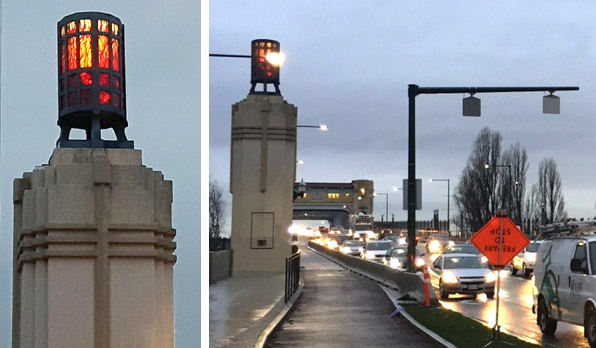 Each one-storey-high lamp sits on top of a four-storey-high concrete pillar.
RUSI President, Cam Cathcart, led the project to have the braziers on the Burrard Street Bridge restored.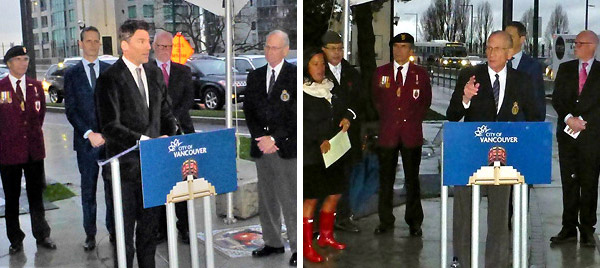 (Left) Mayor Gregor Robertson speaks to the significance of the four Memorial Braziers and officially announces the lighting of the braziers. (Right) RUSI President Cam Cathcart acknowledges support of the City of Vancouver, assisted by Veterans Affairs Canada, on completion of the project.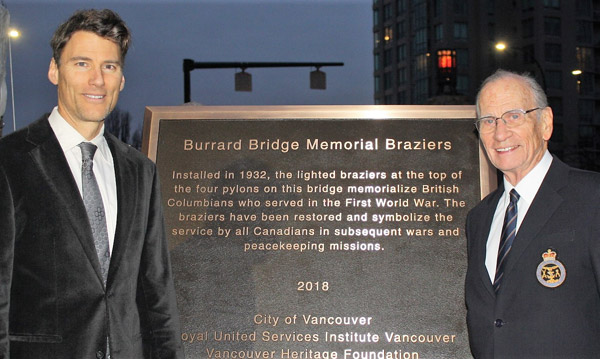 Vancouver Mayor Gregor Robertson and RUSI President Cam Cathcart following the unveiling of the commemorative plaque.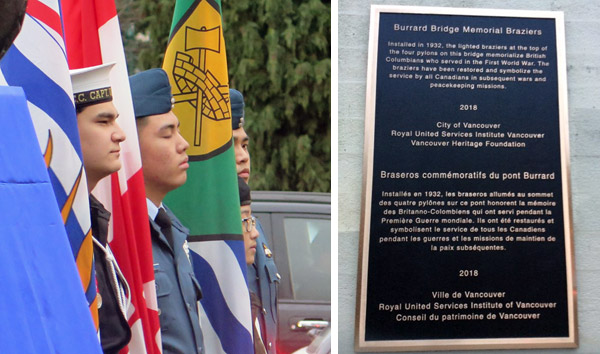 (Left) Four members of the Vancouver Flag Party provided a ceremonial guard for the lighting and unveiling event. (Right) The official plaque commemorating the lighting of the Memorial Braziers is seen attached to the northeast pylon of the Burrard Bridge.